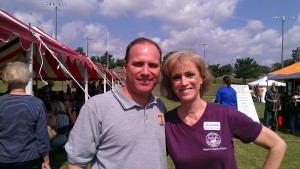 What do hamburgers, mayor Tim Burchett and John Bailey Company have in common?
…Medicare Advantage, Medicare Supplements and Long Term Care, that's what.
 Knox County's 6th annual Mayors Senior Picnic kicked off Friday, September 21, 2012 at John Tarleton Field in Knoxville.  With a bluegrass band, grilled chicken and a large crowd of Knoxville's seniors, the Mayors picnic was a huge success with the participation of the Knox County Senior Centers and Knox County's Senior Staff.
With EMS on standby, the stampeding crowd was moved through the large vendor tent collecting any and all vendor give-a ways. Representing the Knoxville Senior Medicare Market, John Bailey Company was on high alert with the approaching Medicare Advantage Annual Election Period coming up this October 15-December 7, 2012.