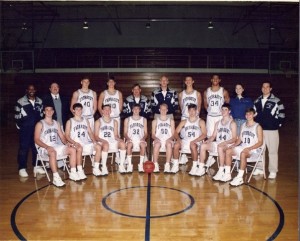 Last night I went to the Rocky Top Basketball League and sat with a friend of mine, Brent Watts who coaches the First Tennessee team. He was kind enough to let me hold the clip board, yell at the refs, and watch from the bench. I had a great time getting back to the basics of pure sport and competition, I played high school ball. The game reminded me that every player has a role, each a position, and each a desire to win for the love of the game.
It reminded me of  John Bailey Company, we each have a role, a client to guard, an assist to make, and a rebound to grab. We don't score, unless open, occasionally we will pull up or cross someone up, but for the most part we are just there to win, and we will do what needs to be done to accomplish that task. Together we work to win the game. Sports are naturally a parallel to business, they teach us how to set goals, hard work, how to lose, how to win, and how to play as a team.
Catch a Rocky Top Basketball game this summer. It's a great family event, it's free, and who knows, you may get a chance to chat with your favorite local college basketball star.