Understanding Medical Office Coverage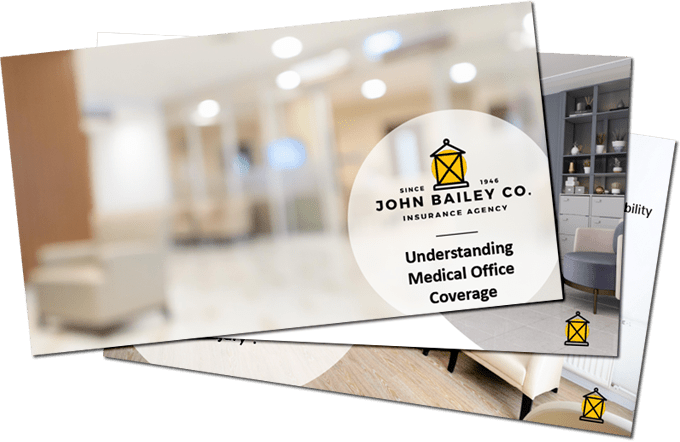 Download our free presentation
on understanding
medical office coverage.
From small family practices to large hospitals, it's important that medical offices have the right insurance policies in place. Every medical office should have insurance to protect themselves from unexpected costs, legal issues, and other risks. But what kind of insurance should you get? Let's take a closer look at the types of insurance available for medical offices and how they can help protect your business.
General Liability Insurance
General liability insurance is one of the most important types of coverage for any business, including a medical office. This type of coverage protects your practice from claims related to property damage, personal injury, or accidents that occur in the office. It also covers advertising-related injuries and product-related injuries caused by products you may sell in your office. General liability insurance can provide protection for legal fees associated with a claim as well as any damages awarded by a court judgment or settlement.
Medical Malpractice Insurance
It's essential that medical offices carry medical malpractice insurance to protect against potential lawsuits arising from errors or omissions while providing medical services to patients. Malpractice insurance can cover legal fees if you are ever sued, as well as any damages awarded by a court judgment or settlement. This type of coverage is especially important for those who work in high-risk areas such as surgery or obstetrics care.
Cyber Liability Insurance
Coverage for cyber liability is another important risk to consider. This policy helps to protect a data breach involving HIPAA, PII (Personal Identifiable information), and PCI (Credit Card information). It also can be broad enough to protect from ransomware schemes and cybercrime. It is important to review your cyber risk management plan as it is helpful in the underwriting process. Having a separate cyber liability policy with higher limits than what may be included in your professional liability policy is worth considering.
EPLI (Employer Practices Liability Insurance)
EPLI helps to protect your medical business from employees who bring wrongful acts or allegations against you for things like wrongful termination, harassment, and discrimination. These policies have different sub limits of coverage and can be created to fit your needs.
D&O (Directors and Officers Insurance)
D&O is a popular coverage to review if you have a board of directors. This coverage offers many broad protection insurance coverages to protect the board members personally, reimbursement of legal costs to your company, and helps to protect corporate assets.
Property Coverage
Property insurance is another type of coverage that is essential for protecting medical offices from losses due to theft, fire, vandalism, and other natural disasters. This type of coverage can cover repair costs resulting from these events as well as replacement costs for lost equipment and furniture in the event it cannot be repaired.
Business Interruption Coverage
Business interruption insurance is designed to provide financial relief if your business has to temporarily close due to an unforeseen event such as a natural disaster. This type of coverage can help cover any additional expenses incurred during the interruption period such as rent payments and payroll costs so that you can keep your business running smoothly even when unexpected events occur.
No matter what size your medical practice may be – whether it's just you on staff or hundreds – the right kind of insurance policies are essential for protecting yourself and your business from unexpected events and liabilities associated with providing healthcare services to others. Different types of policies offer varying levels of protection depending on what sort of risks your practice faces. We have the experience to help you make the right decisions for your coverage!